Updated: 24 March 2020
REGISTER YOUR EMAIL to receive general updates and any changes at our Masjid or Madrassah that might be affected by the coronavirus outbreak. REGISTER NOW
New Measures
A series of strict new measures to fight the coronavirus outbreak have been announced by Prime Minister Boris Johnson.
In a televised address, he said a "moment of national emergency" meant staying at home was necessary to protect the NHS and save lives.
When are people allowed to leave their homes?
Mr Johnson said people would only be allowed to leave their homes for specific reasons:
Shopping for "basic necessities", as infrequently as possible. People should use delivery services, where they can
Medical reasons, to provide care, or to help a vulnerable person
Travelling to and from work, but only if it is "absolutely necessary"
People are also being told not to meet friends or family members who do not live with them.
What other new measures are there?
The prime minister said:
Shops selling "non-essential goods" including clothes and electronics stores will be closed immediately
Libraries, playgrounds, outdoor gyms and places of worship will also close
Gatherings of more than two people (excluding people who live together) will be banned
There will be no weddings or baptisms but funerals will be allowed
Parks will remain open but people are only to go out to exercise once a day
All of the new measures will last for three weeks from 23 March before being reviewed.
How will the measures be enforced?
The police will be given the powers to make sure people follow the measures – by dispersing groups and issuing fines.
The National Police Chiefs' Council told the BBC that officers would be talking to people and explaining why they shouldn't be out.
If they do not accept the advice, they would then be given a fine. However, fines won't be issued until Parliament passes the emergency legislation – which should be by the end of Thursday.
The Home Office could not say, at this stage, how big the fines are likely to be.
What about non-food shops and laundrettes?
Some other types of non-food retailers are also allowed to stay open, according to government guidance:
Pharmacies
Petrol stations
Bicycle shops, home and hardware shops
Car rentals
Pet shops
Corner shops and newsagents
Post offices
Banks
Laundrettes and dry cleaners have been given an exception and are allowed to remain open. If a customer visits one, they need to ensure they stick to the social distancing rules.
What about online deliveries?
Customers should still be able to receive deliveries placed online.
Amazon said there would be some changes, with essential items (like food and healthcare products) being prioritised. That means that delivery times for other items may take longer than usual.
Its drivers have been advised to place packages at the customer's doorstep and step back, in order to avoid any unnecessary contact.
The Royal Mail is still operating its service for parcels and letters, but with some delays and alterations.
To help safeguard care home residents, deliveries are being made to a central point, such as reception, rather than to individual addresses.
Royal Mail says it is working with its airline, postal and courier partners across the world to maintain global deliveries.
What about parents who live in separate places?
Parents who live separately will also be allowed to move children under 18 between their houses, according to Cabinet minister Michael Gove.
What about takeaways?
People can still use takeaway shops and delivery companies, according to the government's guidance.
However, customers must not eat or drink while waiting for their food.
Despite being allowed to remain open, some food retailers have still decided to close – including Greggs and McDonalds.
Is exercise allowed?
People are still allowed to go outside for exercise – including walking, running or cycling.
However, this can only be done on your own, or with the people you live with.
Mr Gove says this should be your "standard length" of exercise and only once a day.
Can I still take my car for an MOT?
Garages are allowed to remain open under the new restrictions.
MOTs for lorries, buses and trailers have already been suspended for up to three months. The government says these vehicles must be maintained and kept roadworthy.
MOTs for cars, motorcycles and light vans are under review.
Driving tests in England, Scotland and Wales have been suspended for up to three months from 21 March 2020, except for critical workers. All practical driving tests are suspended in Northern Ireland until 22 June 2020.
Coronavirus Information
How do I know If I have the virus? (video link from BBC)
Coronavirus
Living in a society and age where new things are always being introduced, whether in the form of new devices, technology or in an unfortunate case, new illnesses and diseases, it is our duty as Muslims and more importantly as humans that we partake in gaining knowledge in order to understand , how to protect ourselves and then to correctly inform others.

What does the Quran say about diseases/calamities?
مَا أَصَابَ مِن مُّصِيبَةٍ إِلَّا بِإِذْنِ اللَّهِ
وَمَن يُؤْمِن بِاللَّهِ يَهْدِ قَلْبَهُ
وَاللَّهُ بِكُلِّ شَيْءٍ عَلِيمٌ
"No affliction/calamity befalls a person except with the permission of Allah SWT, whoever believes (firmly) in Allah SWT (and remains patient) Allah will guide his heart, Allah knows all things " – Quran (64:11)

Hadith:
The Prophet (Peace be upon him) said: "No fatigue, nor disease, sorrow, sadness or distress befalls a Muslim, even if it were the prick he receives from a thorn, but that Allah expiates (removes) some of his sins."

What is it?
A coronavirus is a type of virus.
Coronaviruses are common across the world. Almost everyone gets infected with a coronavirus at some point. Usually, the symptoms are mild and last for just a few days such as when catching a cold. Hence the name 'Covid-19' identifies this particular virus, (CoronaVirus-December 2019)
Coronaviruses typically effects the respiratory system.

How serious is the virus?
Based on data from 44,000 patients with this coronavirus, the WHO (World Health Organisation) says:
81% develop mild symptoms
14% develop severe symptoms
5% become critically ill

Did you know, about one billion people catch influenza (flu) every year, with between 290,000 and 650,000 deaths.

What are the symptoms of coronavirus?
a cough
a high temperature
shortness of breath
headache
sore muscles
But these symptoms do not necessarily mean you have the illness.
The symptoms are similar to other illnesses that are much more common, such as cold and flu. If you think you have the symptoms, you should dial NHS 111. Don't panic, as chances are you have a fairly mild illness.
We must ensure to maintain hygiene specially at such times, by regularly washing hands with soap and water during the day. Regularly wash towels and sanitise (disinfect) door handles and surfaces around the home.

DO
cover your mouth and nose with a tissue or your sleeve (not your hands) when you cough or sneeze
put used tissues in the bin immediately
wash your hands with soap and water often (for atleast 20 seconds)
try to avoid close contact with people who are unwell


DON'T
touch your eyes, nose or mouth if your hands are not clean

Is there a vaccine to the recent coronavirus (Covid-19)?
The work to develop a vaccine is under way and it is hoped there will be human trials before the end of the year. Hospitals are also testing anti-viral drugs to see if they have an impact.

Is this the first time the UK has experienced such type of virus?
No, the world, including UK has a history of such virus outbreaks, some recent ones are:

1995 – Mad cow disease (discovered)
1997 – Bird flu
2003 – Sars virus
2009 – Swine flue – 18,000 deaths worldwide (pandemic)
2014 – Ebola virus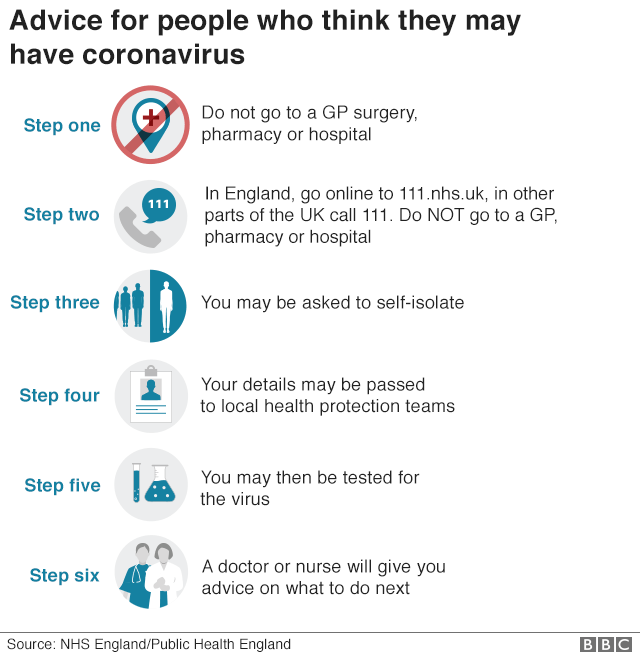 Finally, to conclude, we must understand that whatever we face is from the will of Allah, and to accept that is from the characteristics of a grateful person/slave of Allah SWT

Hazrat Ibn Abbas RA Narrates that the Prophet (Peace Be Upon Him) said :

Every calamity has 3 aspects of khair/goodness (these should be considered during a calamity)

1- It could be far worse than it is
2- It has affected your dunya and not your aakhirah (hereafter)
3- It has not affected Deen

These three points will certainly help a person through testing and difficult times. We pray Allah SWT grants us the tawfeeq through his infinite mercy, to remain grateful and hold on to patience. Ameen

Was this information page useful?

Further reading:
https://www.nhs.uk/conditions/coronavirus-covid-19/


Sources:
nhs.uk | bbc.co.uk/news/health-51048366
bbc.co.uk
gov.uk | https://www.theguardian.com/